The World Cup, every 4 years provides fun and thrill to the most craziest of cricket fans and to the average cricket fans and pundits all over the world. The major test nations and other associate nations put out their best foot forward in the king of all tournaments – The ICC Cricket World Cup. It started with 1975, and since then every 4 years the world cup has been held. Legends are made in the World Cup by virtue of their performances. Teams have dominated in this tournament over the years, like the West Indies dominated in the 1970s and the Australians of 2000s. Good batsmen are hard to come by. There have been batsmen who have countered pressure and played some absolute blinders over the course of time.
Cricmatez looks at some of the greatest innings played by batsmen in the World Cup. We know you have an idea of who should come in the list but then opinions do differ.
10. Aravinda de Silva (Srilanka) – 66 vs India, 1996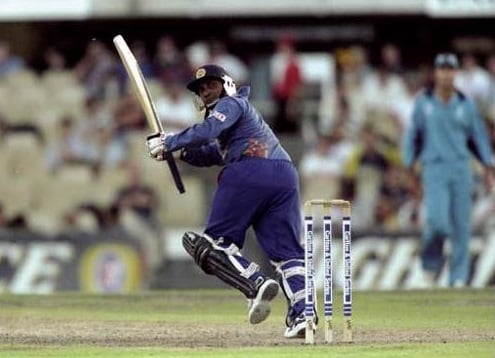 1996 World Cup saw the rise of a new big thing in Srilankan cricket – The pinch hitter Jayasurya. He and Romesh Kaluwitharna gave the Lankans the explosive starts in most of the games, and the batsmen that followed just went with the momentum provided by them. But in the World Cup Semi-Finals, they had a much more tough nut to crack – India. More frightening was the fact that it was played in Eden Gardens. But the Lankans were pretty much up for the battle, with Jayasurya in fine knick again. He scored 79 and laid the foundation. But what really stood out was the innings played by Aravinda de Silva. He was not showing senseless aggression but yet was in for his team's rescue. Not unfazed by the big sea of Indian fans in the stadium, he scored his 50 off 32 balls. He played his strokes right from the coaching manual, the purity in the strokes was simply a treat. He was casual in his strokes, finally holed out to Kumble. But captain Arjuna Ranatunga, Roshan Mahanama and Hashan Tillekeratne made sure Srilanka posted 251, and in the end brought tears to the Indian cricket fans when India end their innings at 120 for 8. The fans also went violent throwing bottles to the ground, at last the match referee Clive LLoyd awarded the match to Srilanka. Aravinda de Silva is no.10 on the list of top 10 greatest innings in world cup.