It is very rightly said that a picture is worth a thousand words. There are some images which have much deeper significance to life than just their mere visual presentation. As far as India is concerned, the world of the cricket crazy people comes to a standstill when their heroes are in action. With every four, six or a wicket, their hearts are thumping at the rate of knots as they invest a lot of their time and emotions on the wonderful game of cricket.
There are certain gripping images or rather moments which have special place in the hearts of the Indians as it is related to the glorious moments in the game for their team which is a matter of passion and gateway to happiness for them. Have you ever wondered which are the most iconic images of Indian cricket history? Don't worry, we have collected some stimulating images of Indian cricket which will give you goose bumps and will lead you to a state of abject nostalgia. So folks, brace up your seat belts and get ready to experience a blissful ride here on CricMatez. These iconic images of Indian cricket history will get your adrenaline pumping.
Today, CricMatez presents the Top 10 Iconic Images of Indian Cricket History:
10. India's historical Test series win in Pakistan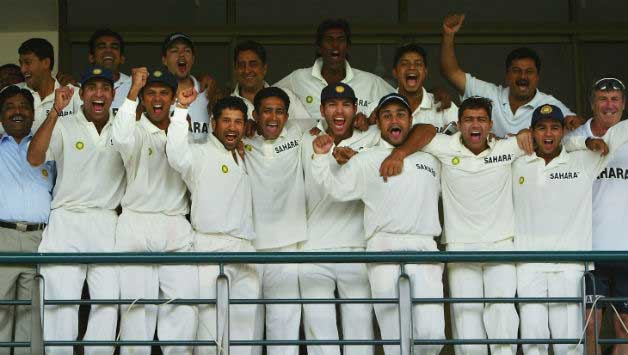 One of the greatest Test series victories in the history of Indian cricket came against the arch-rivals, Pakistan at Rawalpindi in 2004. It was India's first tour of Pakistan after a gap of 15 years. Coming into the third and final Test match at Rawalpindi, the series was leveled at 1-1. But the Indian team scripted history when they defeated Pakistan in the series decider by an innings and 131 runs. It was India's first ever Test series win in Pakistan and came after five failed attempts. The tour also marked the beginning of sporting ties between the two nations for some years again. It will always be remembered as one of the most iconic images of Indian cricket history.