2. India vs Sri Lanka, Sharjah, 2000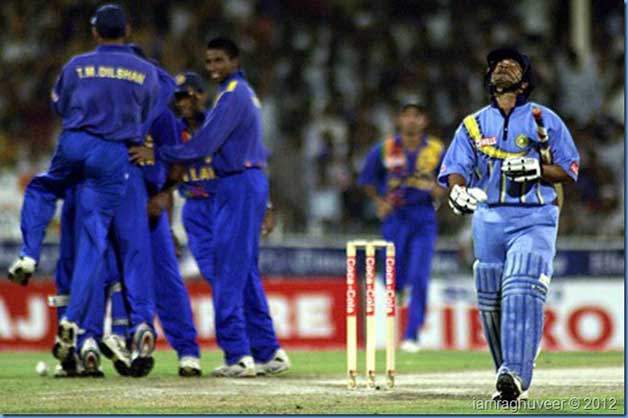 At number two on our list is India's performance in Sharjah in 2000. It was the final of the Coca-Cola Champions Trophy. Jaysuriya brought his A-Game to India that day, with no regard for reputations; a man possessed he was that day. He had not much of a support but it didn't really matter to him anymore, Venkatesh Prasad bore the most brunt, his 7 overs going for 73.
Sri Lanka had a formidable total and set India exactly 300 to get. It was a difficult chase, but India was at-least expected to put up a fight, if not win. Fight they did, although it was a different kind- the fight of who can come back from the batting crease the fastest! Sachin and Ganguly, the biggest hopes of India were gone under the score of 10. When the seniors didn't do much, the juniors didn't do much either. Yuvraj went, Kambli followed and India managed a bit more than 50 runs as a team! All out for 54.