1. India vs Sri Lanka, Kolkata, 1996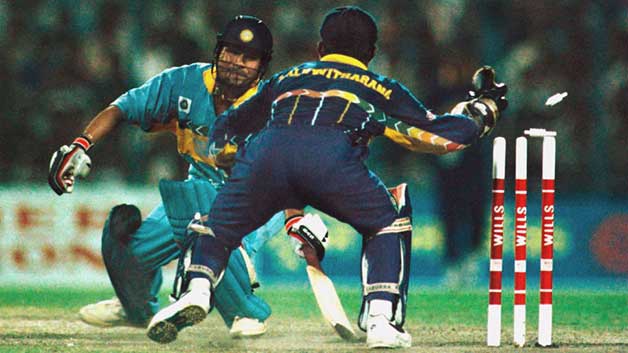 It is the most shameful day for a cricket fan, and particularly an Indian cricket fan. Playing the first semifinal against Lankans at Kolkata, India was on a roll. India got the rid of the two openers in the first over of the play. Finally the curse of hosting a World Cup would be lifted we felt! De Silva came and brought out his best game on the grand stage. Sri Lanka set India a challenging, but not unattainable total of 252. Sachin stitched a resurrecting stand with Manjrekar for the second wicket.
India was 99 for 1 and Sachin looked good. Jaysuriya came. This time, a ball in his hand; he drew out Tendulkar and keeper Kaluwitharna, did a fine work and finished the working. The opening duo teamed up to dismiss the main man from India, Sachin. Wickets felt like nine pins as India went to 120 for 8 in such a short time. Then, came the ultimate twist; the crowd, frustrated by India's dismal fall, vetted out their anger. They threw bottles, stones and put the seats on fire. Clive Llyod, after unsuccessfully trying to resume, declared Sri Lanka the winners. The crying Vinod Kambli, in the middle of the stadium, will forever be etched in our memories for all the wrong reasons. It is number 1 on our list of "TOP 10 Infamous batting collapses of India".