Cricket is one sport Indian's worship more than the National Sport of Hockey. It's cricket that makes Indian's blood rush!
From ODI's to Test Series, they are all watched with such intensity. From going crazy about the victory to burning posters and mourning for loses, the Indian's worship the game.
So in a country where cricket is more of a religion than just a sport, it increases the burden of delivering the best performance every time- be it our Batsmen or Bowlers, there performance is what determines their career further.
There have been a number of Indian bowlers who have had successful test performances, especially on the Indian soil with the likes of Harbhajan Singh for his 15 wickets haul against Australia and Anil Kumble for his 14 against Pakistan. But has the overseas test performances of Indian bowlers been as successful as it is on the Indian sub-continent?
Cricmatez takes a closer look at the Top 10 best bowling performances by Indian bowlers in overseas test.
10. Venkatesh Prasad: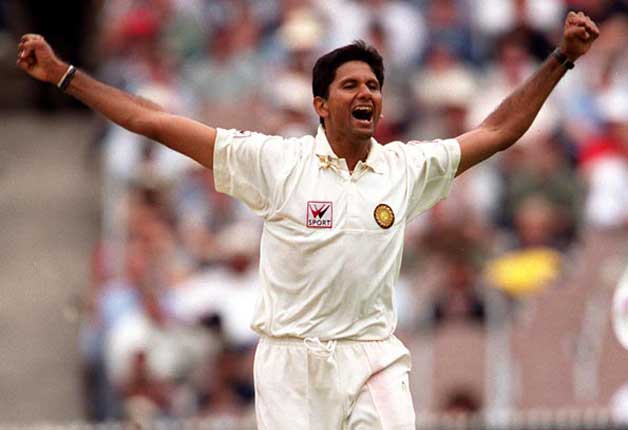 Venkatesh Prasad, the former bowling coach of the Indian cricket team and presently with the IPL giants, Royal Challengers Bangalore had made his test debut in 1996. Then, he was popular for his bowling partnership with the great, Javagal Srinath.
  The right arm medium-fast bowler had an impressive test career by taking 96 wickets, just 4 short of the 100 wicket-haul from 33 tests, at a decent average of 35 runs per wicket.
  The former Indian bowler who was known for his slower deliveries had his best overseas performance against Sri Lanka for his 7-wicket haul at Kandy with an economy rate of 3.17 runs per over. Unfortunately, it was the last test series of his career, after which he took over to domestic cricket.