2. Glenn McGrath (Australia) and Ramnaresh Sarwan (West Indies) :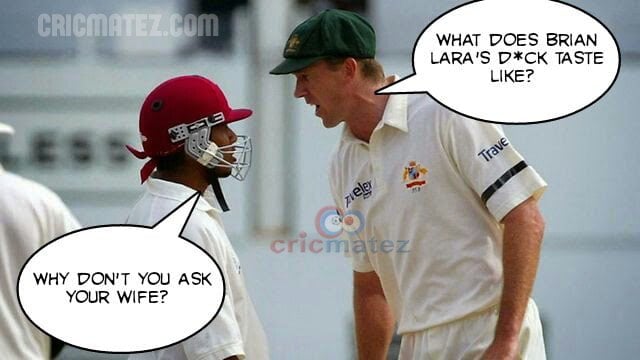 The incident which took place in 2003 is one of the ugliest fight one could ever see. In those days, Sarwan was at his impeccable best  and the Aussies were unable to get him out. So their pace spearhead Mcgrath who is one of the best sledger from the side asked Sarwan "What does Brian Lara's d*ck taste like?". In a flash of a second Sarwan replied: "Why don't you ask your wife?". And then things got out of control as McGrath turned red faced with brimming anger and digust. With his fingers pointing at Sarwan he exploded "If you ever mention my wife again, I'll fucking rip your fucking throat out". Prior to the series, Mcgrath's wife Jane was diagnosed with breast cancer.
Sarwan had no idea about Mcgrath's wife illness. And after the match both the guys reconciled and were apologetic to each other. But, it couldn't stop millions of people from witnessing the blemish on the name of the game.